2019 Ranger vs 2019 Tacoma

The 2019 Ford Ranger is the Mid-Sized Pickup Truck You Need
When Compared to the 2019 Toyota Tacoma, the 2019 Ford Ranger Wins Every Match
The wait is over. The 2019 Ford Ranger is back on the market with new mechanical enhancements featuring a fully boxed frame, a turbocharged engine, and the Ford F-150's 10-speed automatic transmission. So how does it compare to other sporty mid-sized pickups such as the 2019 Toyota Tacoma? It dominates.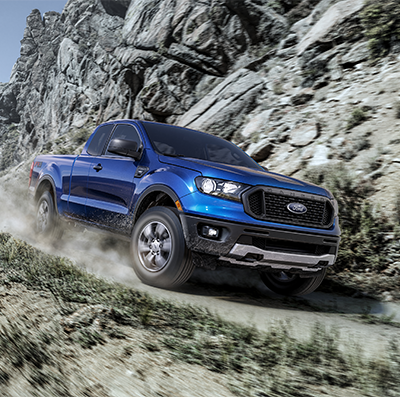 Performance and Capability
The Ranger Wins for More Standard Horsepower
The 2019 Ranger's robust powertrain offers drivers a 2.3L turbocharged 4-cylinder engine that produces a healthy 270 horsepower and 310 pound-feet of torque. Together with its full 10-speed automatic transmission plus an available 4-wheel-drive system, you've got a winning combination. Especially when compared to the standard engine on the 2019 Tacoma, which is only good for 159 horsepower and 180 lb-feet of torque.
The Ranger Hauls More with Greater Towing Capability
The 2019 Ranger can haul up to 7,500 pounds, giving you all the towing power you need to get stuff done. The 2019 Tacoma falls short with a towing compacity between 6,400 and 6,800 depending on which cab you choose.